In order for today's modern businesses to remain competitive, Production systems must be highly available and reliable. Job Control Language (JCL) is an essential part of keeping systems running smoothly. Errors in JCL coding can have detrimental effects on Production and cause unwanted delays.
Due to the complexity, each time new JCL is introduced, or existing language is changed, the potential for errors is great. Under deadlines and time constraints, it is not always possible to thoroughly test Production JCL for all events before the Applications are submitted into Production.
SmartJCL checks the JCL – ahead of submission – for common errors, and eliminates problems at the source. This dramatically reduces the number of Abends, which, in turn, eliminates time wasted during a tight batch window. The associated expenses of searching for problem sources under a time constraint – often during the middle of the night – are also greatly reduced.
SmartJCL also offers integrated scheduler interfaces, e.g. IBM's TWS, a powerful reformat function, and a REXX interface that allows you to easily adapt the product to your own requirements.
SmartJCL is designed for IBM z/OS and IBM System z, it uses interfaces to several z/OS components like Security Server (RACF), Catalog Access Method Services and System Managed Storage (SMS). It determines the status of IBM DB2 for z/OS, if DB2 systems are defined and active. The status of DB2 systems is used to check if a DB2 system can be used by a checked job.
If you are looking for a more cost-effective way to ensure high quality JCL, SmartJCL is the solution: An affordable tool that is nonetheless completely reliable and easy-to-use.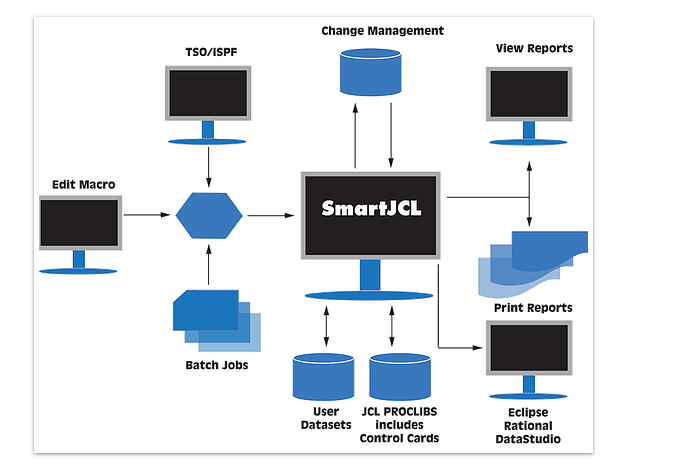 SmartJCL consists of different components :
Ce produit vous intéresse ?
Vous souhaitez en savoir plus sur Smart JCL ? N'hésitez pas à nous questionner.